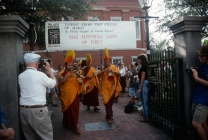 History of Exhibitions

2020: May & June: The Fisher Gallery, Marathon Center for the Performing Arts, Findlay, Ohio

2019: October/November: "Pages from the Manual on Dismantling God," The Walter E. Terhune Gallery at the Owens College for Fine and Performing Arts Center. Toledo, OH Solo
July/August/September: Solo Exhibit: The Gallery of the Mary Anderson Artist Colony at Mount St. Francis Center for Spirituality. Mount St. Francis, IN 47146. (20 miles north of Louisville, KY on Highway 150)
January: Final month for the Goshen College exhibit, Indiana
April: The Gary and Jane Heminger Atrium of the Marathon Center for the Performing Arts. Findlay. Solo
October: Le Bernardin Prive. NYC. Gala & art auction for the Tibet Fund

2018: January/February; Art As Activism 2; Findlay Art League Gallery
October/November; Artprize 10; Grand Rapids, MI. Juried
October: Tibet Fund Annual Exhibition and Auction: New York
November - January: Goshen College: 4-person exhibit

2017: Feb; Art As Activism; Grace Albrecht Gallery. Invitational
Sept/Oct; Tibet Fund Exhibit/Auction, New York
2016: January: Elza Gallery, Ohio Northern University, Ada, Ohio
Sept: Ann Miller Gallery; Wittenberg University, Springfield, OH
Oct: Silent Treatment; Bluffton University, Grace Albrecht Gallery
2015: February: Exhibit/Auction for Cystic Fibrosis, Wine Merchant, Findlay
Sept/Oct: Artprize 2015: Fountain Street Church. Installation; The Manual...
2014: Feb: Artspace Lima: Page from the Manual on Dismantling God. solo March: Owens Community College: Side by Side: 2-person show
June - Sept: Goshen College, Indiana. Solo
Sept: Mustard Seed Cafe', Bluffton, OH 2-person show. European sketches
Oct/Nov: Le Bernardin Prive, The Galleria, NYC with Tibet House
Nov: Salomon Art Gallery, Tribecca Pioneers Artist Exhibition, NYC
Nov. Dec: Lima Art Space: Professoriate: The University Does Art

2013: Findlay Art League: Portrait Exhibition: January/February The Women's Memorial Gallery, Defiance College, February

2012: Toledo Museum: "Doodle." July/August. Group exhibition
Hand Pulled Juried Print Exhibit. Lima Art Space. June, July
Toledo Museum of Art: Portrait Invitational to compliment the Edvard Manet exhibition: Oct. through Dec.
Ashtabula Arts Center, Ashtabula, Ohio, Solo; Sept/Oct: Solo.
Jones House Bicentennial Invitational exhibit, Findlay, Ohio
Bowling Green State University, 5th Annual N.W. Ohio Art Exhibit

2011: Artspace Lima Gallery, Lima, Ohio, 4-person Faculty Exhibit. Oct.
Joshua Liner Gallery: Chelsea, NYC. October: Group exhibit/fundraiser for International Students for Tibet organization.
Artspace Lima: Bluffton University Art Faculty Exhibition: Sept/Oct
Rubin Museum of Himalayan Art, New York City. Group exhibit/fund raiser for the Kathmandu Restoration Fund for the Patan Museum restoration.
Artspace Lima: Annual Juried Exhibition. April and May
Central Booking (Gallery): Brooklyn, NY. Measure for Measure. Feb. and March
Grace Albrecht Gallery, Bluffton University: Art Faculty Exhibition. FebruaryNational Geographic, Online Daily Dozen, one photograph

2010: Toledo Museum of Art Annual Juried Exhibition
Jesse Besser Museum: Solo. Alpena, MI: April/May/June.
Toledo Museum of Art: Ohio: Findlay Area Artist. May/June
Henry Gregg Gallery; Solo. 111 Front St. DUMBO, Brooklyn NYC; September/October.
The Union Gallery: Tribecca, New York City: Artists for Tibet. September. Invitational fund raiser for Tibet.

2009: Columbus Cultural Arts Center: Columbus, Ohio: Solo. October/November
Coffee Amici: Findlay, Ohio. (Recession Art) Solo. August 1st - 16th
New Works: Concepts Gallery, Pittsburgh, PA (gallery inventory)
Findlay Art League Annual Juried Exhibition: 3rd place painting

2008: Owens Community College Gallery: Solo. Findlay, Ohio
Toledo Museum of Art: Annual Juried Exhibition

2007: Mennonite High School Gallery: Three Artists Three Languages: Iowa
Findlay Art League Gallery; Annual Members Exhibit
Grace Albrecht Gallery"Giving Our Best," Bluffton University
Coffee Amici Gallery; Intaglio print exhibit by The Jones Building Co-op Artists

2006: Lima Art Space; Annual Juried Exhibition
Findlay Art League Gallery; Annual Members Exhibition
Grace Albrecht Gallery, Faculty Exhibition, Bluffton University
William Boniface Art Center, Escanaba, MI (Three Artists, Three Languages)
"Giving Our Best," Bluffton University Grace Albrecht Gallery
Findlay Art League Gallery; Annual Juried Exhibition

2005: Concepts Gallery, Pittsburgh. PA
University of Findlay Art Gallery; Faculty Exhibition
Findlay Art League Gallery; Annual Juried Exhibition
Grace Albrecht Gallery, Bluffton University Faculty Exhibition

2004: Lawrance Art Center, Solo exhibit; Lawrence, Kansas
The University of Findlay Faculty Exhibition
Findlay Art League Gallery; Annual Juried Exhibition

2003: Tribecca Fine Arts Gallery, NYC: group exhibit
Concepts Gallery, Pittsburgh, PA
University of Findlay, Faculty Exhibition
Rozzili's Restaurant/Gallery, Findlay, Ohio

2002: University of Findlay Faculty Exhibition
Concepts Gallery, Pittsburgh, PA.
Saginaw Art Museum, Solo Exhibition. Saginaw, MI
Jewel Heart Exhibition Space: Cleveland, OH. Solo exhibition
Tribecca Fine Arts Gallery, New York City. Group exhibit

2001: Washington Theological Union Gallery: Washington DC
Grace Albrecht Gallery, Bluffton University; Solo exhibit
University of Findlay: Faculty Show
Mansfield Art Center, Mansfield, OH: Solo exhibit
Concepts Gallery, Pittsburgh, PA: Group exhibit
Allied Art Council Gallery, Yakima, WA: Solo exhibit
Lima Art Space Gallery: Annual Juried Show, Lima, OH: Best Of Show Award
Wassenburg Art Association 45th Annual Juried Exhibition, Van Wert, Ohio winner of the Wassenburg Art Associaton Award
The Triangle Gallery, Sinclair College, Dayton, OH: Solo exhibit
Ashtabula Art Center, Ohio: Solo exhibit
Saganaw Art Museum, Saganaw, MI: Solo exhibit

2000: The Gardner Fine Arts Pavilion Gallery, Univ. of Findlay Faculty Exhibit
Jesse Besser Museum: Alpena: Solo exhibit
University of Tiffin, Tiffin, Ohio: Solo exhibit
Sandusky Art Center, Sandusky, Ohio: Solo exhibit
Wassenburg Art Center, Van Wert, Ohio; Juried Exhibition
Smithsonian Institute, Wash DC: Tibetan Folklife Festival: Group exhibit
St. Boniface Art Center, Escanaba, MI: Solo exhibit
Arts Partnership Gallery, Findlay, Jones Bldg. Artists Group Show.
Washington Theological Union Gallery: Wash DC: group show

1999: Spiritual Art Gallery, The Cathedral Heritage Foundation, Louisville, KY
Circle Book Store Gallery, Tiffin, Ohio
Stambaugh Gallery, Ohio Northern University Ursula Hegi Invitational, "Others"
University of Findlay/Findlay Art League Invitational; Gardner Fine Art Pavilion

1998: Hillsdale College Gallery, MI: Solo
Jean's Art Gallery, Ft. Wayne, IN: Group exhibit
The Krasl Art Center, St. Joseph, MI: Solo
The McClellan Art Gallery, Findlay, group show
7th Annual Jones Bldg. Artist Exhibit, Findlay
Findlay Art League Juried May Exhibition
The Illinois Bicentenial Art Museum, Paris, IL: Solo exhibit
Denise Bibro Gallery, Chelsea, NYC. 10 large ink works
Kirtland College, Rosscommon, MI: Solo
Findlay Art League Gallery Juried Exhibition
The Central Avenue Coffee House, Fostoria, Ohio: Solo

1997: The Canton Art Museum, Canton, Ohio (two-person exhibit)
The Portsmouth Museum of Art, Portsmouth, Virginia
The Fort Wayne Museum of Art, Fort Wayne, IN; invitational 10 works

1996: Univ. of Findlay Gardner Art Center Faculty Exhibition, OH
William Boniface Art Center, Escanaba, MI
MIU, Unity Gallery, Fairfield, Iowa
The Northwood Institute, Midland, MI
Gardner Art Center, The University of Findlay Faculty Show

1995: Ohio Online Computer Library, Columbus, OH; two person exhibit
Elsea Gallery of Art, Ohio Northern Univ. Ada, OH
Susquehanna Art Museum, Doshi Center for Contemporary Art, Harrisburg, PA
Cathedral Heratage Gallery, Louisville, KY
Avon Lake Library, Cleveland, OH
The Treasure House Gallery, Interchurch Center, New York City
Rosewood Arts Center, Kettering OH
Freeport Art Museum, Freeport, IL; invitational
Johnson-Humerichouse Museum, Roscoe Village, Coshokton, Ohio
Casa Nueva Gallery, Athens, OH

1994: Findlay Area Arts Council Gallery, OH; Five From Findlay
Blackburn College, Carlinville, IL
Ashtabula Art Center, OH
4th Annual Jones Bldg Artists Exhibition, Findlay, OH
McClealand Art Gallery, Findlay OH
Open Center Gallery, New York City; invitational "Threadlore"
Toledo Museum of Art Juried 76 Annual, Toledo, OH
St Boniface Gallery of The Cathedral of St. John the Divine, New York City
Univ of Findlay Faculty Exhibition, Findlay, OH

1993: 3rd Annual Jones Bldg Artists Exhibition, Findlay, OH
Gallery Five, Columbus, OH
Univ. of Findlay Faculty Exhibition, Findlay, OH

1992:
The Open Center Gallery, New York City
Life Cafe, East Village, New York City
2nd Annual Jones Bldg Artist Exhibit, Findlay, OH
Artspace Lima, Lima, OH
The Gallery Cafe, Ada, OH
Paradise Flats Gallery, Charlston, WV
Univ. of Findlay Faculty Show, Findlay, OH
University of Charleston, Charleston, WV

1991: Jones Bldg Artist Group 1st Annual Exhibition, Findlay, OH
Sandusky Culture Center, OH
October Gallery, London, England invitational six-works included
Bowling Green St. University
Nicholas Roerich Museum, New York City
University of Wisconsin, Eau Claire, WI
Univ. of Findlay Faculty Show, Findlay, OH

1990: Columbus Cultural Arts Center; invitational (13 works)
Hiram Kennedy Art Center, Hiram College, OH
Springfield Art Museum, Springfield, OH
Toledo Art Museum, OH; 72nd Annual Juried (Received 1st place award)
Univ. of Findlay, Findlay, Ohio; Faculty show

1989: Toledo Art Museum 71st Annual Juried Show, Toledo, OH
Nicholas Roerich Museum New York City
Ohio Dominican College, Columbus, OH
Zanesville Art Center, Zanesville, OH
Victoria Albert Museum, Melbourne, Australia. "Flight of the Iron Bird" Invitational two person (12 works)
Santa Monica Civic Center, Los Angeles, CA
Alma College, Alma, MI; solo

1988: Licking County Art Assoc. Gallery, Newark, OH
American Culture Center, Kathmandu, Nepal
Jesse Besser Museum, Alpena, MI; solo
University of Findlay, Egner Gallery, OH
Artlink Contemporary Art Space, Ft. Wayne, IN; invitational

1987: Bellarmine College, Louisville, KY
Currents Gallery, Bowling Green, OH
P.M. Gallery, Short North, Columbus, OH
Artreach Gallery, Columbus, OH

1986: Art Link Contemprary Art Space, Fort Wayne, IN; invitational
American Culture Center, Kathmandu, Nepal
Columbus Cultural Art Center, Columbus, OH

1985: Schumacher Gallery, Capital Univ., Columbus, Ohio; The IX Biannial Litergical Guild
Artreach Gallery, Columbus, OH
Graham Private Exhibition; Cataba Island, Ohio;
Josephenium Seminary College, Columbus, OH
Toledo Museum of Art, Toledo, Ohio; 67th Annual Juried
Ohio State Univ. Newark, OH; solo
New York Center for Book Arts, New York City; group

1984: Artreach Gallery, Columbus, Ohio, Creative Lines Invitational
Zanesville Art Center, Zanesville, Ohio; solo
Salon des Artistes Francais, Grand Palais, Paris, France; Juried Exhibition

1983: Regional Litergical Invitational, Ohio Northern University, Ada, Ohio
Gallery One, Ann Arbor, MI
Gallerie Abel Rambert, Rue des Bueax Arts, Paris, France

1982: University of Findlay
Strathmore Graphics Gallery, Westfield, MA
Ohio Northern University, Elzay Gallery; solo
Gallerie 106, Perrysburg, Ohio; 2 person show
Artworks Gallery, Findlay, Ohio; group show
Findlay Art League Juried Show, Findlay, Ohio
Galerie Abel Rambert, Rue des Bueax Arts, Paris,France

1981: Leroy Newman Gallery, Los Angeles
Gallerie Atelier Three, Paris, France
Gallerie Atelier One, Miami, FL
Key Gallery, Greene St., Soho, NYC
Trumbull Art Assoc Annual Juried Exhibition, Ohio
Findlay Art League Juried Exhibition, Ohio award.

1980: Findlay Art League, Findlay, Ohio
Marathon Oil Company, Findlay, Ohio